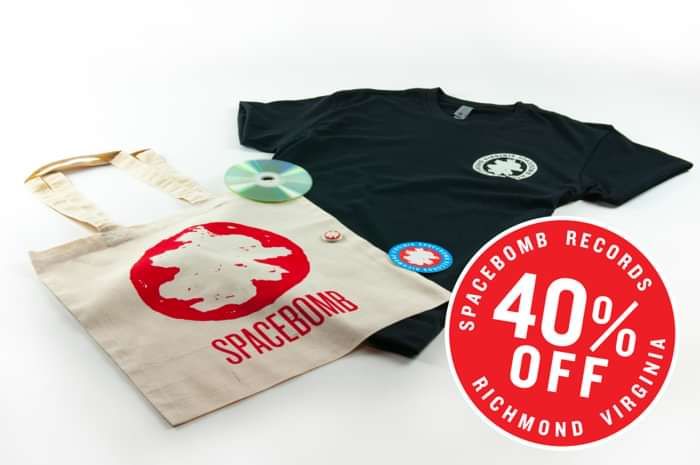 Spacebomb Starter Kit (CD)
40% off a t-shirt, tote, and a CD of your choice!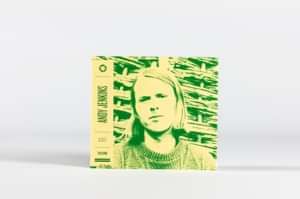 Andy Jenkins – 'Sweet Bunch' – CD
The debut album from Andy Jenkins, released June 15th, 2018.
From the front porches, alleys, and rivers of Richmond, Virginia comes Andy Jenkins carrying a crisp, newly cut album, Sweet Bunch. Hatched in the tradition of Southern culture—unhurried in his art, yet weirdly ahead of the curve by the time he arrives— Andy is a joyously idiosyncratic songwriting talent, ripened over years of relative obscurity. Sweet Bunch springs into the world fully-formed, sitting at the crossroads of modernism and timelessness, sensitivity and decision, with the expansiveness and musical drawl of Big Star, the bounce of John Prine, and the curly, perfectly-carved melodies of George Harrison. Each song paints a wild landscape, the mood of a sun setting on a damn good day among friends and favored creatures.
Andy is a kind of unheard counterpoint, originating from the same small scene of independent Virginia youth culture that produced artists like Justin Frye (PC Worship) Natalie Prass, and Matthew E. White, all friends from his teenage years. He found the perfect seedbed for his particular sensibility in Spacebomb Records, a label known for offering high musicianship outside of the predictabilities of New York, Nashville, and Los Angeles. Produced by longtime collaborator White, with the Spacebomb crew and another old friend, Phil Cook, running hard into midnight, Sweet Bunch was essentially recorded in three days of flow-state, with the drums, bass, keys, and guitars all live and nothing to regret. The source of this musical surety lies with Jenkins' songwriting— natural and effortless as the glide of a swan or sailboat— matched in spirit and strength by the sweet bunch in the studio. Backed by some ringers and a very full chorus, Andy's warm words come buoyed on cool streams of melody, telling the greater world that Virginia has become, once again, a musical frontier.
Track listing: 01. Hazel Woods 02. Curve of Love 03. Genuine Heart 04. Ascendant Hog 05. Sweet Bunch 06. White Linen 07. Illuminated 08. Get Together 09. Song for Me
*"Jenkins emerges as a distinctive artist on Sweet Bunch, an affably charismatic vocalist and supremely resourceful songwriter…like Harry Nilsson if he'd been born a Southerner. 8/10" * — Uncut
"Matching Americana to underground indie rock, his style is personal but always open, a charming personality who engages at every turn." — CLASH
"...its intermittent sing-talking and indie twang somewhat resemble a stripped-down Beck" — Stereogum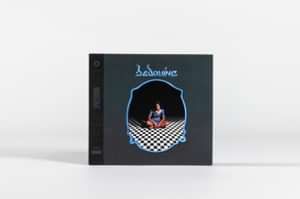 Bedouine – 'Bedouine' – CD
The self-titled debut album from Bedouine
Bedouine is singing, like rain down a granite ruin, sweet as jasmine in the summer darkness, lilting crystal movements, precise and sure, the kind of voice that forms civilizations. Bedouine has a story to match the name, Azniv Korkejian, born in Syria to Armenian parents, spent her childhood in Saudi Arabia, and moved to America when her family won the Green Card lottery. Living at various times in Boston, Houston, Lexington, Austin, and Savannah, she found a community of musicians in Los Angeles that feels like home.
One day she walked into Gus Seyffert's studio to inquire about getting a reel-to-reel tape machine, something analogue and portable to record herself in small, quiet places. On a whim, he asked if she would play a song right then, so she stepped into the room and cut "Solitary Daughter" in a first take, and they were off on a three year collaboration. One night, she approached Matthew E. White of Spacebomb Records after a show at The Echo in L.A., saying that she wanted to send him a song. He remembers listening to "One of These Days" on the rest of that tour "like a thousand times," it knocked him and his band right out, and they even set it as their alarm to wake up to in the morning. If that all sounds a bit mythic, a bit rock-and-roll legend, remember that reality always outdoes the script, even in a town like Hollywood.
Working on around thirty tracks, with remarkable musicians like Smokey Hormel stopping by to contribute parts, Korkejian selected ten, united by a sustained mood and presence, to bring east for the Spacebomb treatment and Trey Pollard's expressive symphonic arrangements. It's a celebration of the patient process of recording and discovery. Bedouine's voice is at the center, a serene narrator, restless or still, taking deep pleasure in moments of trust and recognition, close observations or oblique truths, exploring the deep complications of displacement. Her debut collects two coasts, combining L.A. studio magic and Richmond's Spacebomb sound in a rich new world of style and song.
Tracklisting: 01. Nice and Quiet 02. One of These Days 03. Back to You 04. Dusty Eyes 05. Solitary Daughter 06. Summer Cold 07. Mind's Eye 08. You Kill Me 09. Heart Take Flight 10. Skyline
Released June 23, 2017
★★★★★ – The Independent "A modern folk masterpiece" – The FADER "One of the most charming albums of the year" ★★★★ – The Guardian "A hushed, haunted, delicate wonder" – Associated Press "Gorgeous… stellar" – The Line of Best Fit "A triumph" ★★★★ – Mojo ★★★★ – Q 8/10 – UNCUT "Dreamy" – UPROXX "Captivating" – Rolling Stone The Best of What's Next – Paste "Downright stunning" – Stereogum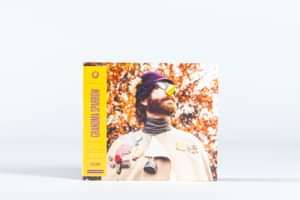 Grandma Sparrow & his Piddletractor Orchestra – CD
CD Gatefold Limited to 500 copies Released May 20, 2014
Grandma Sparrow & his Piddletractor Orchestra is a psychedelic children's song-cycle for adults that reveals Joe Westerlund's fascination with collage, improvisation, humor, and the convergence of atonal and popular melodies. It's the kind of project that is rarely dreamed up these days, rarer still to be executed with such skill, bravado and glee (complete with an amateur youth choir). An over-the-top, richly realized musical vision from an over-the-top musical visionary, Westerlund (Megafaun, Gayngs, Califone) takes the listener on a wild ride of audio collage, drifts of radio static, and orchestrated grooves–the Beach Boys and Charles Ives wandering through Mr. Rogers' Neighborhood. It's another bold production from Spacebomb Records, ever dedicated to the redefinition of what a record can be in the 21st century.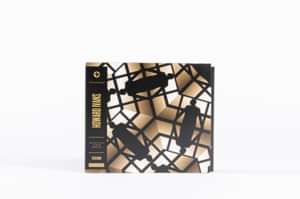 Howard Ivans – 'Beautiful Tired Bodies' – CD
Fall down the rabbit hole of Ivan Howard's alter ego and wake up in a stylized soundscape, surrounded by twisting melodies and singing shadows. Beautiful Tired Bodies is the latest installment of chromatic-eyed soul from the man who brought us a "magnificent art-funk treasure" (SPIN) and "a symphonic funkscape worthy of Quincy Jones" (UNCUT). Talking to the mirror in the man, Howard Ivans delivers his full-length debut, co-produced by Trey Pollard and Cameron Ralston, featuring the Spacebomb house band and a VIP list of Richmond musicians. The experience is immersive, a headlong rush, shot through with highlights like Pollard's transfixing string arrangements and bold keyboard riffs from Devonne Harrison (Stones Throw). Howard Ivans stands in the spotlight, a man who once recorded a bold, song-by-song remake of Sade's Love Deluxe, delivering a new soft funk tone poem, a voice crooning out in the wilderness.
Track list: 1. Denise 2. King of Careless 3. Jump In 4. Idle Lights 5. Come On 6. Back to the Life 7. Second Spring 8. Supersonic Love 9. Keep Breaking It Down 10. They Don't Know How It Feels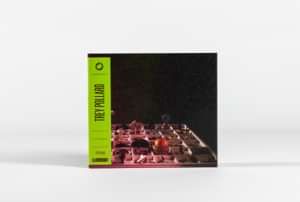 Trey Pollard – 'Antiphone' – CD
The debut album from Trey Pollard
In-house arranger for Spacebomb, Trey Pollard, makes his debut as a composer in his own right on Antiphone. Antiphone is an album of chamber pieces under his own name featuring a set of preludes and fugues for string quintet and pieces for chamber string orchestra and piano. Pollard's work has been a vital component of productions by a growing list of rock and pop artists in the know – Natalie Prass, The Waterboys, Foxygen, Helado Negro, Matthew E. White and Bedouine – and expanded to projects outside of that context, recently contributing to the score of S-Town, the groundbreaking long-form podcast. The music of his mind is of such quality – agile and prescient, conceptual yet emotional, with an absorbing sense of beauty. Though he might not try to bring down the heavens, they swing low just the same. Pollard moves through the potentialities of sound with surety, finding his own line on the thrill of sound.
"Pollard...has created a stunning collection of memorable moments that feel like a score for a film — one that's playing in your mind as you listen. Close your eyes and let it overtake you." — RVA Magazine
"Antiphone is nothing short of an achievement." — You Hear That?!
"beautiful" — Composer's Toolbox
"perfection" — Schmutz
"Antiphone [is] set to emphasise Pollard's emotional and conceptual sound… Jumping between producing, piano and conducting the small ensembles, his debut album will highlight Pollard's prowess and attention to minor detail." — The Line of Best Fit
Jackie Cohen – 'Zagg' – CD
Zagg is the debut full-length album by Jackie Cohen and the follow-up to her two introductory EPs released last year, Tacoma Night Terror Parts 1 & 2, which were called "utterly spellbinding" (The Line of Best Fit), "a stunning and complete debut" (Vinyl Me, Please), and "sleazy-listening glam" (The Guardian). The playing on Zagg – by Cohen with the Spacebomb House Band – and production – by Jonathan Rado (Foxygen) and Matthew E. White with freak-of-nature orchestral arrangements by Trey Pollard – is bright and beautiful across the whole grab-bag of love songs, laments, self-mortifications, meditations on sunscreen, hammer-anvil jams, and kit v. kit double drum cardio smash-bros looney tunes suicide pursuits. More than one of Jackie's many nicknames, "Zagg" is also a shout out to her uncanny ability to select an unanticipated word or musical flourish, her disarming poetic acumen, her ability to zoom in and out at lightning speed and spin a phrase into a mantra, or the opposite of a mantra. Each song on this record is its own unique little world, keeping a listener delightfully off-kilter throughout the entire affair. Here's the record. Listen hard. Read the signs. Pack a lunch. Enjoy.
This bundle also includes: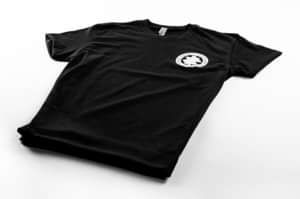 Spacebomb Black Classic T-shirt
The classic Spacebomb logo on an incredibly soft tee.
Next Level Unisex Short Sleeve Tee, 100% cotton. Printed in Richmond, VA.
This bundle also includes: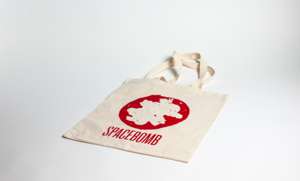 Spacebomb Tote Bag
Red Spacebomb logo on natural flat tote. 100% cotton canvas, 6.0 oz, folds flat, self-fabric handles. Size: 14 1/2″ x 15 1/2″. Made in the USA.